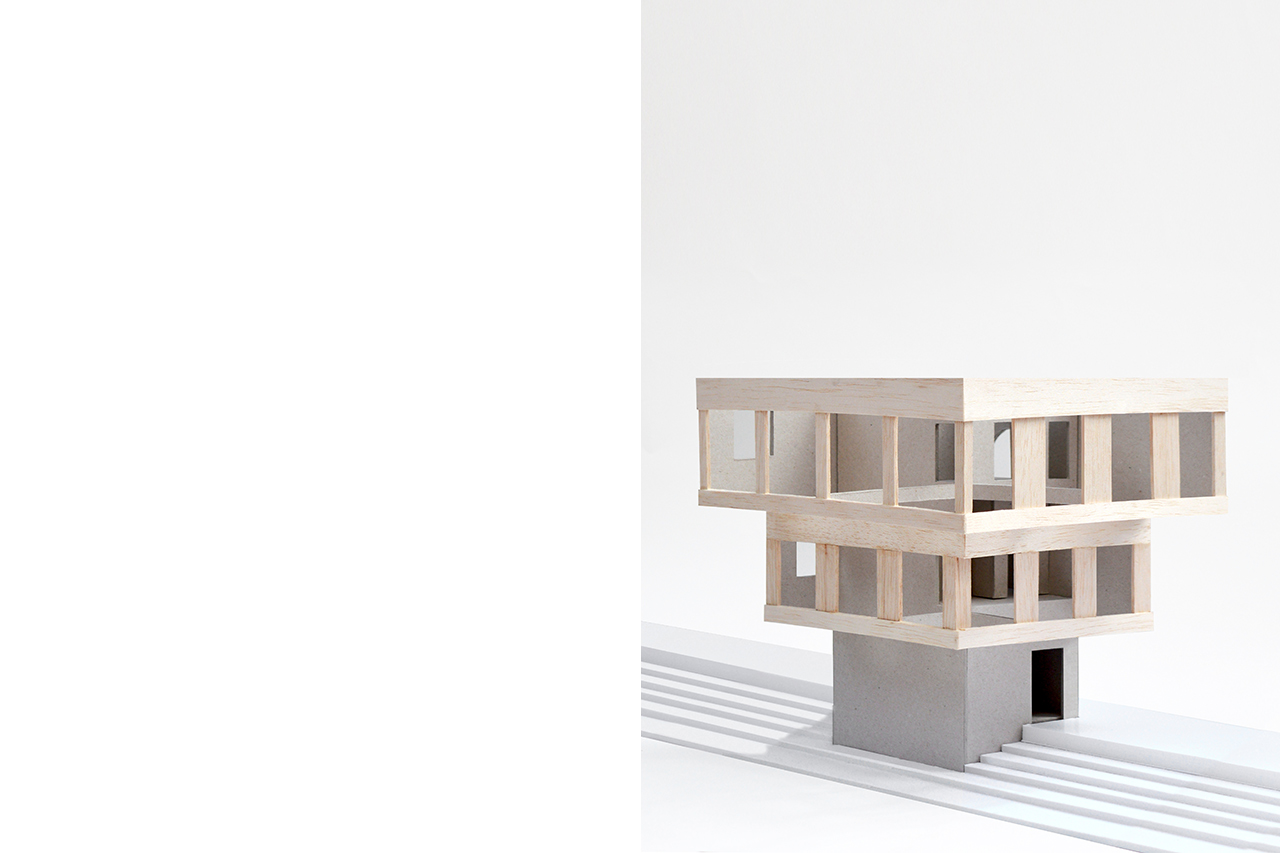 FELT won the invited competition for the building of a new jury-tower overlooking the Watersportbaan in Ghent.
Location: BE, Ghent Client: City of Ghent Surface: 355 sqm Status: Tender
FELT Team: Jasper Stevens, Karel Verstraeten, Ewout De Bleser, Lucas van Remoortel, Marie Lafosse, Sarai Olabarrieta Technical Consultants: HII0 Architecten en Ingenieurs bvba, DECLERCK & PARTNERS bvba Images: FELT
Community Center Peterbos, Brussels
FELT in collaboration with 2001 and atelier Horizon, won the invited competition for a new sport and recreation facility in Peterbos, a large-scale modernist social housing development in Brussels.  Using the height difference to our advantage we conceived the new building as a big circular plaza amidst the rigid blocks surrounding the site.  The large volume of the sports hall is therefor recessed underground giving way to the plaza whilst still enabling the other functions to relate with the public realm on the lower street level. The facade is designed as a sequence of large windows opening up the inner workings towards the neighbourhood. This prolonged gallery concludes in a striking corner volume, containing the café and the large elevator and staircase that connects the plaza with the street and the sports infrastructure within.
Community Center Peterbos, Brussels
Location: BE, Peterbos Client: Municipality of Anderlecht Surface: 4245 sqm Status: Building Permit
In collaboration with 2001, atelier horizon
Team: Jasper Stevens, Karel Verstraeten, Elisabeth Van Kerckhove, Sarai Olabarrieta, Michiel Hutsebaut Consultants: UTIL, Boydens, Daidalos, Bureau Bouwtechniek Images: FELT
FELT collaborated with MAAT Ontwerpers on a masterplan for the Neptunus-site near Ghent. The planned demolishment of the current open air swimming pool was a starting point to research the possibilities of the area. As a result of an intense co-creation process with multiple stakeholders, the new masterplan not only defines the new position of the swimming pool, but also leads to a more open site with strong green character and a rational and safe circulation plan.
Location: BE, Wondelgem Client: City of Ghent Surface: 96 000 sqm Status: Study
In collaboration with MAAT Ontwerpers
Team: Jasper Stevens, Karel Verstraeten, Lucas Van Remoortel Images: FELT